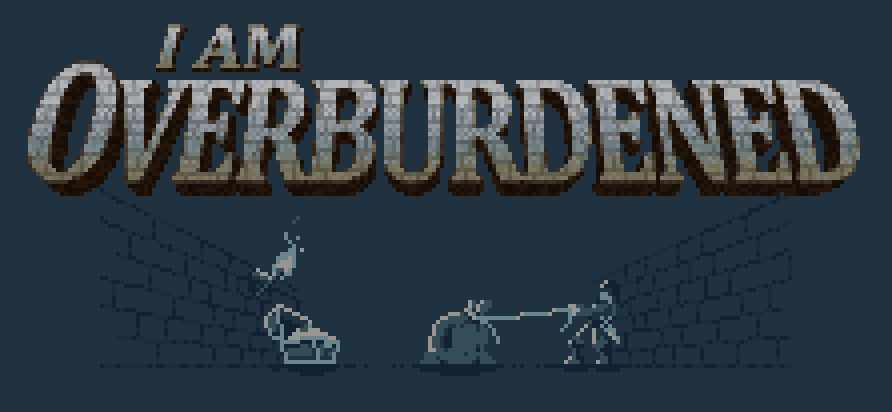 I Am Overburdened
I Am Overburdened, looney tuning.
---
Hello there!
I usually share these posts on the community board of the game (under the support topic), but since these are actually development log entries I think they are actually belong here.
Time for one last small update before I go into full promotion mode regarding the new I Am Overburdened expansion pack ;)
Update
The new 1.2.6. version is more of a refinement over the existing stuff, but it packs a lovely change which I hope receives a warm welcome.
Screen transition
I've been fighting with level change for a long while to make it look good and readable. I always wanted to help the player instantly recognize where Joey is when entering a new dungeon floor. Finally what I have now feels really good :)
I should have looked into cartoons for inspiration long ago.
Bug-fixes
While testing the new content I made for the expansion I've stumbled into a few issues :(
A huge error found its way into the game code with the previous update. Wearing the "Wizard Hat" item could cause a crash in certain cases upon reaching a dungeon level with a number of hallucinations in it. Now it's fixed!
Please accept my apology if any of your runs came to an unexpected end due to this mistake. I'm really sorry.
As you can see on this gif some item combinations could mess up the boss fight scene. Not a major problem, but it looked pretty weird.\
Bad karma (balance)
I constantly tweak difficulty related things with each update and this one is no exception. With luck and a few right choices early on you could become too overpowered and I tried to address this "problem". Now the game tries to push back a little if you are shredding everything in your path with ease. It isn't drastic but affects your luck and the pickup and chest spawn rates a bit.
The second half of the gameplay was affected mostly so the change focuses on later dungeon levels as well.
Upcoming
The time has come to start showing some real footage from the expansion pack!
The first official reveal is one (or two in this case?) of the new enemies: the Ooze.
You can expect the same level of functional diversity. All new beasts are going to have their own special "thing" ;)
The expansion will focus on replay value first and foremost and will NOT extend the story. The new monsters will be introduced as part of the existing dungeons as "variants" at certain sections, randomly selected for each run. That is why the Ooze is encountered in the caves.
I made good progress in the last month and it looks like I'm only going to release one more update before I complete the enhanced edition of the game. This also means I'm going to reveal a lot more details about the new stuff in the next few weeks!
Thanks for taking the time to read my post and thank you very much for your support.
Take care!